Looks like a rock but tastes like a spectacular artisanal cheese. Garrotxa is unlike any other Spanish cheese you've tried so far.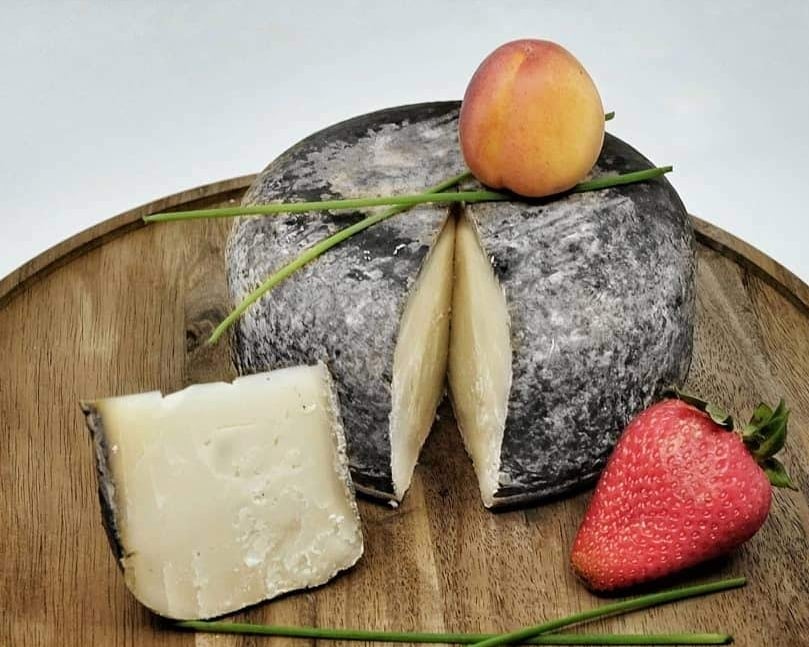 Where Garrotxa comes from
Garrotxa is a beautiful semi-hard cheese made using pasteurised goat's milk in the eponymous region of Catalonia, Spain.
In the 1970's, this traditional cheese had all but disappeared from circulation. However, a small number of artisanal cheesemakers in the region decided to revive it in 1981.
In the recent years, there has been a bit of a cheese renaissance in many regional parts of Spain. A number of traditional cheeses have benefited from this trend such as Viejo Maestro and Roncari Blue.
Nowadays, a handful of artisans in Catalonia have mastered the craft of maturing Garrotxa. Overall, they nurtured the small wheels for up to 6 months.
At this age, the cheese develops a velvety, almost furry, natural rind. On the outside, it looks like a river stone and has a damp woody aroma. In stark contrast, it has a pristine white pâte with a dense buttery texture.
What Garrotxa tastes like
Furthermore, its mild and milky aroma reinforces that this is a truly surprising cheese. On the palate, it is both sweet and savoury, with notes of herbs and nuts and a subtle piquant finish.
Actually, the Penicillium mould on the surface helps neutralise the acidity that leads to a very pleasant mouthfeel.
Overall, it is incredibly moreish and will appeal to people who wouldn't typically like cheeses made with goat's milk.
This is one of the rare instances where we recommend removing the rind before serving.
Enjoy this unique artisanal Spanish mountain cheese with a dry Cava and some fresh strawberries.